Weddings & Functions
Every Bride & Groom are unique and each venue and each event are different so why would you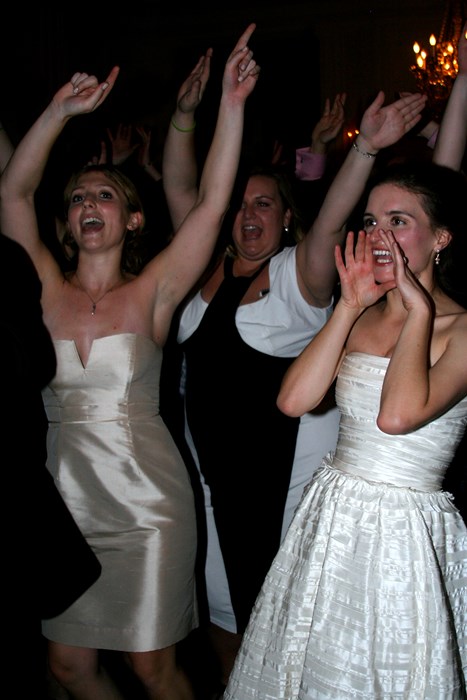 want to hire a cookie cutter band that plays the same thing for every show? With 20+ years of experience In The House has experienced most scenarios and have a good understanding of how to help put the "FUN" into your party. When the groom can get on stage and lead the band in "Shout!" you know you have a great party!
Not like the rest, In The House performs some of the best in R&B, Motown, Reggae and Dance Rock and they do it all well! Jazz, Swing & Ceremony music also available. With more than one hundred songs and counting in our repertoire you never see the same show twice. In The House designs its shows specifically for your event. Laid-back beach vibe? How about a mix featuring songs like I Can See Clearly Now by Jimmy Cliff, Is This Love by Bob Marley, My Girl by the Temptations, The Way I Am by Ingrid Michaelson and Dancing In The Moonlight by King Harvest? A heavy grooving' dance party? How about I Wish by Stevie Wonder, September by Earth Wind & Fire, Kiss by Prince, Billie Jean by Michael Jackson, Rolling In The Deep by Adele and Uptown Funk by Marc Ronson w/Bruno Mars? You'll want to check out our Song List. If you don't see it there and you've got to have it for your first dance - we'll learn it for you!
Whether you're booking a Club, Wedding, Corporate or Private Party, New England's Premier Party and Groove Band In The House guarantees to get everyone up on the dance floor - from 5 to 80! This band knows how to get people moving and with new songs added weekly to the repertoire you never see the same show twice. It's always one, Big, HOUSE PARTY!!! Check out our unedited reviews on our References page.
3 to 10-piece versions of the band are available to fit any size room, event or budget including 3 piece horn section. steel pan and percussion. Our standard 7-piece Wedding Band includes award-winning vocalist/percussionist Kera Washington(Boston Music Awards) and the critically-acclaimed vocalist/steel pan playing Becky "JB" Bass along with guitar, bass, piano(male vocals), drums(male vocals, and sax providing all of the excitement and versatility needed for most events.  In The House features three lead vocalists who also provide full background vocals as well as a variety to our sound that few bands can come close to providing. In The House is versatile enough to Rock The Hottest Clubs or tone down the distortion for elegant functions or family events!
Cocktail & Dinner Music:
Latin & jazz guitarist, pianist or combo available for cocktails as well as Latin Jazz & R&B ballads or even a little Island music along with full band for dinner. Ceremony and Holiday music also available for Budget Friendly One Stop Shopping.
70's Soul & Funk is in our wheelhouse but if you love Reggae, then you're in luck:In The House features 3 members  who grew up in and around the music of Haiti, Trinidad, Jamaica, The Dominican, and so on... our Reggae & Soul Band is lead by award-winning percussionist and ethnomusicologist 
Kera Washington performing Reggae favorites by Bob Marley, Jimmy Cliff, Third World, and the English Beat mixed with reggae versions of tunes by Stevie Wonder, The Temptations, Aretha Franklin and more. Great for your Beach Reception!
Visit our Song List page for a current list of the songs that we do… from Bruno Mars and Adele to Bob Marley and Santana to Stevie Wonder and Michael Jackson… visit our References for actual unedited reviews by many of our clients.
Find out why In The House has been chosen for numerous Clubs, Restaurants, Hotels, Cruises, Concert Series, Wedding Couples, Corporate Parties including Fenway Park, The Duxbury Music Festival and the Los Angeles Dodgers, to be their choice for Entertainment!
Email or call Tania at the Hank Agency for a "Free" consultation. After booking, Stephen with In The House will work with you from start to finish to help you have the wedding party that you've always dreamed of having. and the best part is that not only does Stephen have 20+ years of wedding and function planning experience as a DJ, Performer and MC, Stephen is our fearless leader and drummer for the band. He picks the songs that we play and makes sure that you have the right mix and songs for your special day. 
To book Boston's Premier Party and Dance Band, IN THE HOUSE, contact Tania Henry at...
The Hank Agency
tel: 617-628-0400
email: tania@hankagency.com
web: hankagency.com